Jewelry Project
Equally dazzling worn during lazy summer days or glamorous winter nights, these colours and this design is hot.
Jewelry Project
Simple jump rings interlinked are used effectively to create this bang up to date style.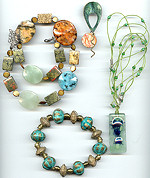 Every year there are trade shows around the world showcasing jewellery designs. If you can gain access to some of these shows it can give you an insight into forthcoming jewellery designs and can provide you with a wealth of inspiration.
Seed beads are a descriptive term for small beads used in beading or jewellery making. They make great spacers in between larger beads in and also work well as embellishments in arts and crafts projects.
Seed beads are made from long canes of glass and are then sliced to size.  The cut, finish, colour, detailing or quality will determine the price of seed beads. The more uniform the seed beads the higher the price. Although, less uniform shapes can add unique dimension to jewellery design giving an authentic vintage feel that may be missing from perfectly formed beads.
Beading and jewellery making can be overwhelming when you first start. But it is important to note that your skill level will develop gradually, so don't try many techniques all at once and confuse yourself. Pay attention to the techniques that you can master quickly and that develop confidence and gradually cast your net wider to develop more skills. Be assured that there is not one single person who knows and practises all beading and jewellery techniques, and most of us develop little quirks of our own that help us make jewellery quickly and easily.

At some time of other you may have thought about importing beads directly from the maker and wondered if there are savings to be made and whether you could even source some unique creations; if so don't take another step until you have read the following.  This article is useful to anyone wanting to import many kinds of product.
Importing certainly does have its advantages when it comes to bead choice and selection, but there are many pitfalls to consider. Nine times out of ten you will be better off dealing with bead suppliers from your own country or one with a common language or understanding.

The Czech Republic is well known for their superior glass beads. To be confident that you are getting the most for your beading money it is essential that you know as much as you can about the bead making process so you can identify which beads offer the very best quality.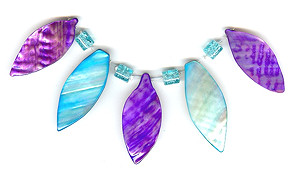 Beading stainless steel wire – tiger tail – illusion cord
| | |
| --- | --- |
| Item | Meaning or Conversion |
| Hank | 6-12 Strands |
| Pc | 1 Piece |
| Gross | 144 Pieces |
| Mass | 1200 Pieces |
| 1 Kilo | 2.2 Pounds |
| Cent | 100 Pieces |
| Mille | 1000 Pieces |
| Millimetre | 1/25 Inch |
| Inch | 2.54 cm (25.4 millimetres) |
| Necklace Lengths: |   |
| Collar | This is worn close to collar bone at the base of the neck and usually made up of three or more strands sized around 12 to 13 inches. |
| Choker | This is worn snugly around the neck and it is particularly suited to hair worn pinned up for special occasions. Usually sized around 14 to 16 inches. |
| Princess | This length is usually around 17 to 19 inches. a great length for a pendant or a high neck line. |
| Matinee | At 20 to 24 inches, this necklace is a good alround choice. Probably once thought of as the most appropriate length for early afternoon |
| Opera | The opera necklace is quite versatile as it can be worn singularly or doubled up to fit close to the neck.  The length is around 28 to 34 inches. |
| Lariat | This is a necklace that us not joined but rather tied together or wrapped around the neck.  The length is usually around 48 inches |