Beadsmith produce wire snowflakes with can easily be turned into great seasonal decorations.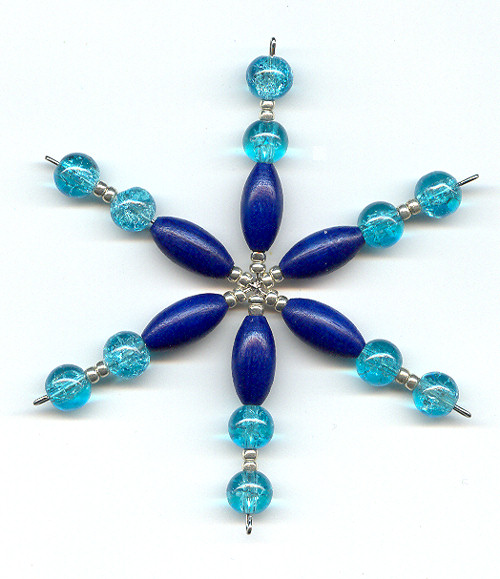 Take a large round flat plain wooden bead, and using Sakura Glaze pens, decorate with a simple holly leaf and red berry detail.
Thread your bead onto a headpin, ensuring that you place a silver lined size 6 seed bead in a seasonal colour at each end. Make a loop with your round nose pliers, and add a jump ring. Now take a piece of Organza ribbon to finish off. 
Bead Fairs
Intergalatic Bead and Jewellery Shows
Sat, December 05, 2009 – Sun, December 06, 2009
York Fairgrounds And Expo Center – (1/2-Old Main Building)
334 Carlisle Ave
York, PA 17404
USA
Sat, December 12, 2009 – Sun, December 13, 2009
Richmond Raceway Complex – (Colonial Building)
600 E Laburnum Ave
Richmond, VA 23222
USA
Beadwork Fair
Sunday
24th January 2010
Sussex
The South of England Centre
Ardingly
West Sussex RH17 6TL
London Bead Fair – West of England Events
The London Bead Fair:
Location: Kempton Park Racecourse Sunbury
Dates:
Sunday 7th February 2010
This elegant necklace will give a sophisticated look worn over a simple black sweater.
Fire Opal crystal adds extra sparkle to this jewellery project design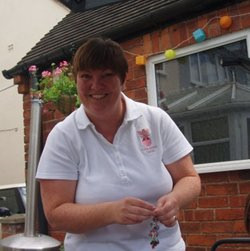 This month Sarah Bingham gives her insights into running a jewellery making business.
Sarah Bingham works part time for bead company http://www.epbeads.co.uk/, alongside this, she runs her own jewellery making parity business – Fairy Gems. She also sells pieces of jewellery online and though craft fairs and other events.
Do you think you need to very creative to run a jewellery making business?
I think you've got to have a sense of colour co-ordination; artistic ability is not absolutely necessary, but it is a good ideal to look at jewellery trends and ideas and give them your own interpretation.
Before you begin beading, take time to analyze which tools of the trade you will need to start on your beading project. When I first started beading, my first investment went into beading tools. I wanted to make sure I used the right tools to ensure my jewelry pieces come out right. It took a few trial-and-error buying before I was finally able to break it down to these five "must-have" beading tools. For those beginning beaders who are still looking for answers on what to use and when to use those beading tools, read on.
Life was less complicated in years gone by. Once of the reasons for this was simplicity: and in particular the simplicity of choice. If you wanted washing powder, you went to your local corner shop and bought washing powder. You may have had one or two brands to choose from. Now if you want washing powder you have the choice of many brands, biological and non biological, liquid, powder, tablets, dissolvable sachets; the list goes on.
This twisted wire necklace gives a vine like appearance.
One of the best and cheapest ways to get new customers is to get your exiting customers to promote you. In many industries it's what they call referrals. Customer referrals will happen naturally if you provide a good service that people are happy with, but often this process can be helped.