I recently came across this  fantastic article on using colour written by someone who has studied interior design. Its well worth a look on seeing how to best make use of colour in your designs
http://crystalvelvetweddings.blogspot.com/2010/01/working-with-colour-rules-of-colour.html
8-year-old Phoenix entrepreneur already knows to give back
ABC15.com (KNXV-TV)
"She loves to design and do art work, she's actually making jewelry, scarves, bracelets and stuff," said Daniel Hurley
To view full story see:
http://www.abc15.com/content/news/phoenixmetro/central/story/8-year-old-Phoenix-entrepreneur-already-knows-to/l5jj03_tYUuLsYfE_lAbOg.cspx
The University of Lincoln has unveiled an exciting new degree programme in design.
BA (Hons) Jewellery and Object begins in September in the University's prestigious Lincoln School of Art and Design.
Students will study the creation of contemporary jewellery and artefacts, learning a variety of specialist design and related craft skills.
The three-year course will equip graduates for a wide range of careers, including as jewellery artists and designers, accessories designers and design managers, as well as roles in merchandising, conservation and design retailing.
The programme will be based in the University's Faculty of Art, Architecture and Design, which is led by Dean Professor Norman Cherry, an internationally-recognised expert in the field of jewellery and object design.
A former Head of the Birmingham School of Jewellery, his work has been extensively exhibited internationally and many of his pieces are held in private and public collections throughout the world, including the British Museum and the Royal Museum of Scotland.
Professor Cherry, who has been closely involved in the development of the new course, said: "This is an exciting new programme for students aspiring to work in what is one of the most vibrant and dynamic art and design fields today. I'm very much looking forward to welcoming the first cohort of undergraduates to the Faculty in September."
The BA (Hons) Jewellery and Object course will be headed by Senior Lecturer Neil Simpson, who brings to it a wealth of design expertise and experience.
Mr Simpson said: "Students will acquire a broad base of practical design skills, theoretical knowledge, and integrated technical skills enabling them to practise in the professional design world."
For more information on the new programme BA (Hons) Jewellery and Object, visit http://www.lincoln.ac.uk/home/new_courses/index.htm
A great way to sell extra jewellery is to package it as an "extra" product. Birthdays are a traditional gift giving time when jewellery is a popular gift item, so why not produce an all in one gift solution.
Here we have provided a quick video tutorial on how you can make and accessorize your jewellery on a handcrafted greetings card. The card is made from downloadable card toppers which can be printed onto craft card stock. During this card making demonstration we show you how to use a regular card board box, that you would normally throw away or recycle, to make a sentiment panel where you can attach a pair of handcrafted earrings.
Making use of card crafting is great way to expand you crafting skills and provide your customers with an instant gift and card solution. Perhaps the very best thing about being jewellery makers is that we can embellish our cards with beads and ribbon that we would normally use in our jewellery making projects. And, because jewellery makers have an eye for colour, you can pick out and co-ordinate the colours of your jewellery to match the colour of your greetings card. Just take a look at the video to see what I mean.
Stunning red silver foil hearts are teamed together with classic translucent bicone beads to make this statement necklace.
Czech glass pillow beads are used with 4mm bicone crystal to create glamour and shimmer.
Quality Czech beads are used in lovely lavender/purple tones to create simple yet elegant art deco style earrings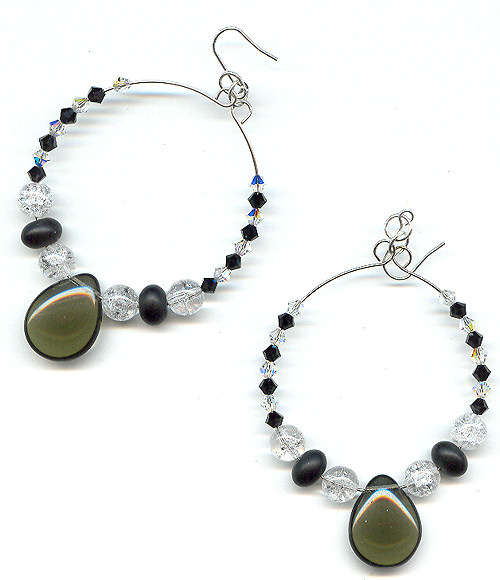 Materials Needed
2 x Bracelet Memory Wire Turns
Selection of 4mm Crystals
Selection of small Czech Beads
2 x Focal Beads
Jump Rings
Earwires
Step 1
Use round nose pliers to form a loop at one end of the turn of memory wire.
Step 2
Thread on the beads in the following pattern. Thread eight 4mm crystals, then 3 small Czech beads, then the focal bead, then 3 small Czech beads and eight 4mm crystals.
Step 3
Use round nose pliers to form a loop the other end of the turn of memory wire.
Step 4
Use a jump ring to attach the 2 memory wire loops together. Attach another jump ring and then an earwire.
Step 5
Follow the instructions above to form the other earring.
A splash of colour livens up these classic Bali style beads
How to Make Fused Glass Jewelry, Pendants and Earrings
By Denise M.
Up until a few years ago fused glass jewelry was a small niche in the jewelry world, well over the last few years fused glass jewelry has grown tremendously in popularity. You can't miss these beautiful pieces of jewelry. If you have ever been to a craft fair you have probably seen fused glass jewelry. The most common pieces are pendants and earrings.
One of the striking characteristics of fused glass jewelry is the brilliant sparkling colors that change when the light hits the glass at different angles. The type of glass that causes this sparkle is called dichroic glass. These pendants and earrings are made by layering different pieces of glass on top of a base piece of glass.