Using knitted jewellery wire to create designs is not for the faint hearted. You will of course need knitting skills and a selection of small beads to create your own knitted jewellery project.
Check out these really dainty earring made by ceramic artist Amanda Robbins. Amanda explains how to make these earrings in her knitting with jewellery wire article on the new information website dispenseinfo.com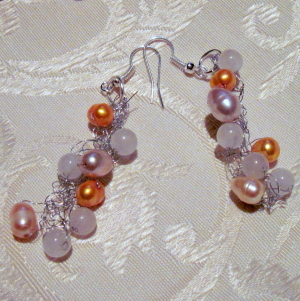 Amanda helpfully includes a little tutorial and pattern so that you can make your own.
Beautiful fire opal crystals are paired with metal snowflake twinkles to give these drop earrings extra sparkle.
Make something different with this nugget and seed bead bracelet combo!
Irregular aqua beads are teamed with a pattern made from Bali style beads
Simplicity can sometimes produce the best jewellery results. This necklace looks equally good over a plain white tee shirt or over a chenille black sweater.
Elegant drop earrings with just a small crystal accent, adds a touch of glamour.
Newsletters are becoming more and more popular amongst small businesses as they represent an effective way to reach customers at very low costs. Traditionally it was only large organizations that could afford to target their customers with news of promotions or offers, but now even small start ups can keep in contact with their customers via email newsletters.
Many people who sell online, get themselves a website, put up a few products and then sit back and wonder why they don't receive any orders.
Unfortunately, obtaining a website and populating it with your products is the easy part – it's the promotion of the website that will ultimately attract visitors. For this you will require very specific strategies, and this is where the creation of further websites (feeder-sites) come into their own. Your feeder sites don't have to be full ecommerce sites, blog sites are ideal as long as you can keep the information updated fairly regularly.
By Cherry Bruce
When you think of the term fashion classic, what are the items that come to mind? A crisp white button down shirt, great pair of jeans, a little black dress… a cuff bracelet? Over the past few seasons, we have seen cuff bracelets everywhere from the red carpet to the runway to the pages of every major fashion magazine. Now, they are have gone mainstream, and it looks like they are here to stay.