Aqua Marine Twisted Wire Necklace
This twisted wire necklace gives a vine like appearance.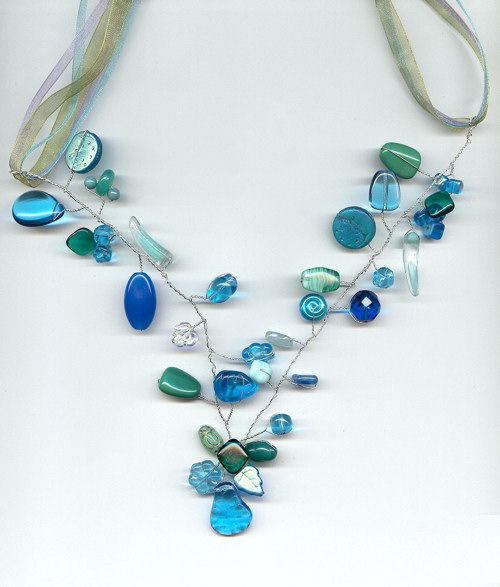 Materials Needed
Bead mix selection of Czech glass beads
0.4mm wire
Jump rings
Clasp
Ribbon
Step One
Cut a length of wire approx 1.5 metres long.
Step Two
Thread on a bead (to use as a focal bead) and thread to the centre of the wire. Hold both wires together and twist the bead to secure the bead in position.
Step Three
Continue to thread bead onto one of the wires and then twist to secure the bead – forming wire twist branches.
Step Four
Once the pendant cluster has been formed, use one wire to thread a number of beads on. After each bead is threaded, twist the wire to secure it in place.
Step Five
Continue step four until you have the length of necklace you desire.
Step Six
To complete the wire twist, use the other wire to twist along the beaded wire. Continue to twist both wires together for about three cms. Fold the wire around a pair of pliers to form a loop and twist the of the wire round itself.
Step Seven
Cut another length of wire approx 1.5m
Step Eight
Find the centre of the wire and attach it to the top of the pendants and twist both wires to secure the wire in place
Step Nine
Continue following step four, five and six
Step Ten
Thread ribbon through the wire twist loops. Attach crimp cord ends at the end of the ribbon. Attach jump rings to each of the crimps and add a clasp to one jump ring.
++