Art Deco Style Stretch Bracelet
Jewelry Project
Striking reds and geometric style never go out of vogue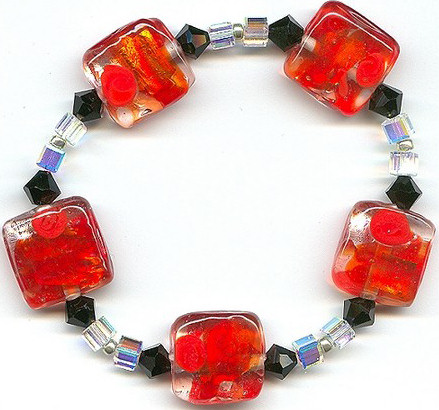 Materials Needed
Square beads 15x 15mm
Size 8 Silver Seed beads
Jet 6mm crystal bicones
4mm Crystal Cubes
Stretch Elastic
Tips
Red and black make stunning combination. Square geometric shapes that are reminiscent of the Art Deco period are very popular. Use a few extra seed beads
interspaced within the pattern to give extra width if required.
Step One
Take a piece of elastic slightly longer than your desired bracelet length. Thread on a patternof a square bead followed by a jet crystal, a cube, a seed bead, a cube and another jet crystal.
Step Two
Repeat the patter to until you have six square beads used. Now make a surgeons knot as show below. Trim the remaining elastic.