Aztec Earrings
Earrings don't have to be made of expensive materials to make a statement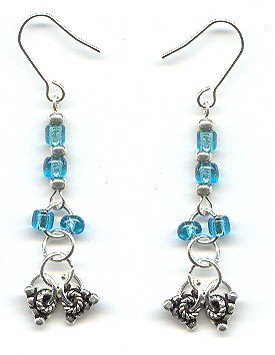 Materials Needed
2 Headpins
8 size 6 Aqua seed beads
4 jump rings
Earwires
Six size 8 seed beads
Tips
Use silver foil seed beads for best effect. Goes great with an Aztec Design necklace.
Step One
Take a headpin, thread on a size 8 seed bead , an aqua size 6 seed  bead and repeat pattern finish off with a size 8 seed bead.  Make a loop with round nose pliers at the end of the headpin and push the bead up against the loop. At the opposite end of the pin, trim to leave ¼inch of wire (1cm) and make another loop.
Step Two
Open a jump ring and slide on two size 6 seed beads and attach to one end of the headpin.  Making sure the seed beads are placed each side of the jump ring, take two more jump rings, interlink and attach to the seed bead decorated headpin.
Step Three
Open a jump ring and attach a rondelle. Repeat and attach both to the last jump ring. Now attach an ear wire. Repeat the process to make the other earring.