Black and White Glass Chip bead bracelet
This striking black and white design is simple yet effective.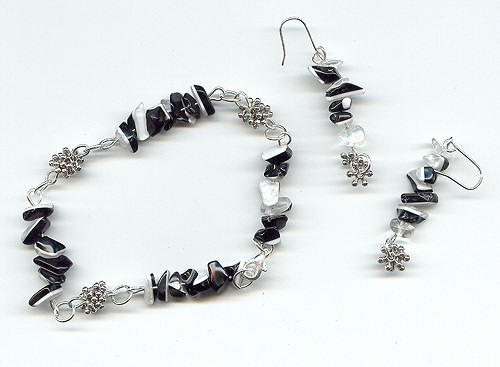 Materials Needed
Headpins
Twinkle Rondelle Spacers
Jump rings
Lobster Clasp
Black and White Chip beads
 
Step One
Take a headpin and thread on either six or seven chip beads. Make a loop at one end and cut off the flat headpins end and make a loop with your round nose pliers. Alternatively you can use eyepins.
Step Two
Now using the some method, thread on 3 spacer beads and make loops each end of the headpin.
Step Three
Using jump rings, interlink you design.
Step Four
Repeat pattern and add a lobster clasp to finish.
Step Five
Make matching earrings and add some rondelles at the base to add extra movement and sparkle.
++