Blue & Green Bracelet
A simple beaded charm bracelet using mixed beads in co-ordinating colours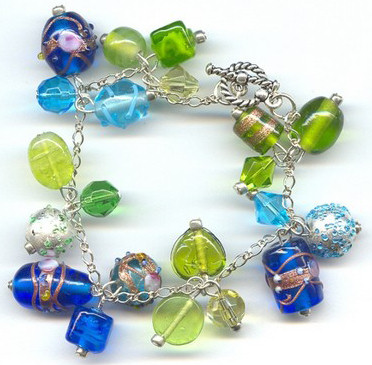 Materials needed
Chain
Toggle Clap
Headpins
Size 8 silver seed beads
Mixed beads in blue and green
Tips
Use vibrant colors for simple designs and a mix of bead styles to show this
bracelet off at it's best.  Don't overload the chain with beads as this will break delicate chain or spoil the design making it too cluttered.
Step One
Take a bracelet length of chain and  attach a toggle clasp with jump rings to from a bracelet.
Step Two
Select a green coloured bead and place on a headpin with a seed bead both side. Trim the headpin to leave a ¼ inch ( 1 cm ) of wire, and make a loop with round nose pliers.
Step Three
Count in approx 4 links into the chain and attach the bead to the chin link with the loop on the headpin. Now make two additional green toned bead charms using different style beads through the same or adjacent chain links in a cluster of three bead charms.
Step Four
Decorate the rest of the chain alternating between group of green and group of blue bead charms. Space out evenly along the chain.