Blue Zircon Memory Wire Bracelet
Indian style memory wire bangle uses two-tone crackle beads to create added depth to your jewellery.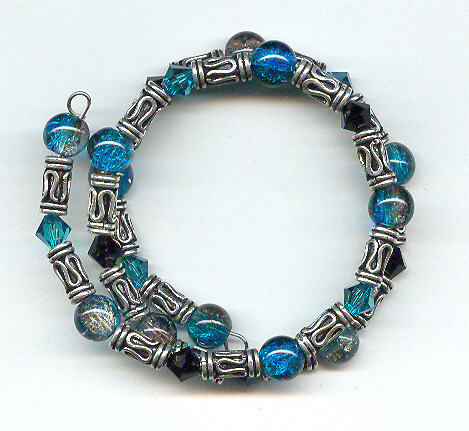 [Hidepost=2]
Materials needed
2 Wraps of Bracelet Memory Wire
11 Crystal Bicone Beads (6 one colour, 5 one colour)
12 Crackle Beads
22 Metal Tube Beads
Tip:  Only use small metal tube beads if they are straight, as you will find it difficult to thread on longer tube beads.
Step One
Form a loop at one end of the memory wire.
Step Two
Thread on a crackle bead, a metal tube, a crystal, a metal tube and then a crackle bead.
Step Three
Repeat this pattern to the end of the bracelet, alternating the crystal colour.
Step Four
To complete the bracelet form another loop. 
[/Hidepost]
++