A conversation with bead and jewelry designer, Kristal Wick
ibeadmag.com talks to author of the top selling "Fabulous Fabric Beads", Kristal Wick. Kristal is also a designer, teacher and bead product innovator. Her range of beautiful fabric beads is an inspiration to bead and jewelry making enthusiasts everywhere. Her book, which was published in the autumn in 2008, is still in the top 10 of Amazon bestsellers in four different categories.
We find out what makes Kristal a success, and get the answer to questions every budding designer would like to ask.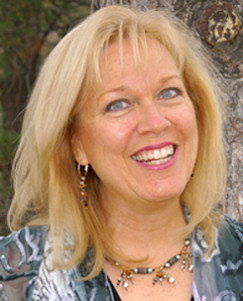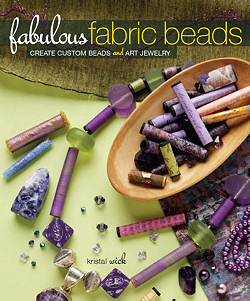 Q. We first met at the CHA in LA earlier this year, and I was amazed by your work and fabulous use of colour and design. Please tell our readers a little about yourself and how you got started making jewellery?
A. My mom is a really talented artist and dad a realtor business guy, they never quite understood each others path and that brought about a great deal of conflict growing up. I chose my dad's "more-secure-money-motivated" path in collage; I liked money and those artist-types were way too wacky for me! So I had a 17 yr. career as a Technical Writer in Corporate America writing computer manuals (the kind nobody ever reads!). I was a late bloomer in the artistic world and started doing some creative stuff on the side to keep my sanity outside the cubicle! I first started with stained glass then moved into fused glass wall hangings and dinnerware. Throw (literally) in some pottery and raku. Became totally hooked on fused dichroic glass jewellery and ended up doing trunk shows for the Jimmy Buffett band! All the girls wear my jewellery (Jimmy, not so much) on and off stage and it was a blast helping them back stage dress with their new blingy adornments! My jewellery and pottery was in over 18 galleries including 3 galleries on Canyon Rd. New Mexico at the same time and I felt I had "arrived" as an artist.
Then many of my customers asked me to invent something lighter weight as their earlobes were dangling to their knees from years of "earlobe abuse" so I did some research. Once you've gone dichro, there's no going back! So the challenge to find some type of material that was vibrant AND lightweight was difficult. As I sat there in my little studio in the basement I wondered if I could make some kind of bead out of silk. I dabbled a bit in hand painting silk for pillows and lampshades and I couldn't find any type of silk beads on the market so I invented my own technique of hand painting silk and rolling into beads. I found silk to be easy to work with, very lightweight and durable so I made a bunch to show my buds. They loved them!
A friend of mine asked me if I would come to the Bead & Button show in Milwaukee and help in her booth. She said, "bring those little beads along, I'll give you a foot of booth space and let's see what happens". So I got on the plane proudly carrying my half a shoebox full of the first Sassy Silky Beads, put them out in the booth and sold out in less than an hour! I had to run after some of the customers grabbing the beads back so I had samples to take orders from. I went home at the end of the show with $12K work of orders and quit my job! The fun didn't stop there…Then I spent the next 4 months filling those orders! YIKES! I had created a monster! 5 years later I've been on HGTV and PBS numerous times, in over 35 magazines, published a best selling book, Fabulous Fabric Beads, taught on cruise ships, am now a Swarovski designer/teacher and Ambassador (30 worldwide) and recently teamed up with JHB Buttons to manufacture and distribute my Sassy Silkies and new Batik Beauty handcrafted fabric beads.  All because of those gosh darn silk beads in my basement!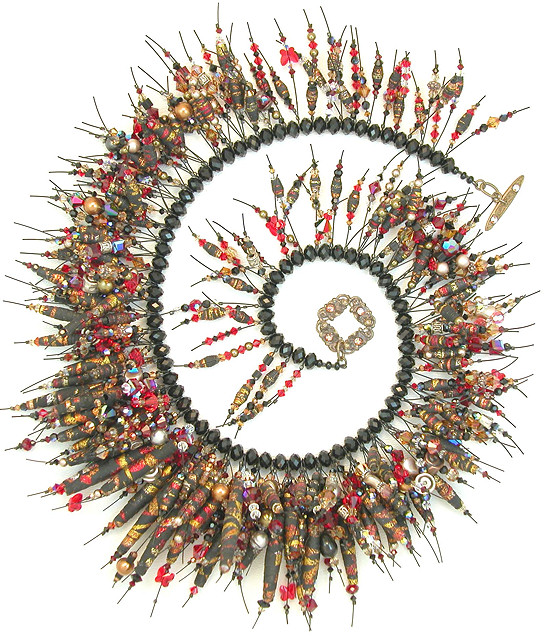 Q. When you were first getting started, did you make any big mistakes or face any challenges that our readers can learn from?
A. Ohhhhhhh, the challenges I've faced could be an entire book! One of the biggest changes I've gone through on this ride has been redefining the word "mistake". It simply means something didn't come out the way I thought it would.
Many of my "mistakes" have become my top sellers! I believe, opening up my mind with no judgement and giving myself permission to explore has been the key to my success. Fearless Creativity is now my middle name. I teach a lot of that in my classes because I find being a "great artist" many times has very little to do with the actual art or talent; it's mainly defined by one's freedom and ability to let their personal expression flourish. No critics allowed in my inner studio!
I also believe in breaking all the rules…the rules taught in grade school about painting, staying in the lines and such…again, Fearless Creativity!
Q.  You design for Swarovski, tell us how that relationship came about.
A. What a hilarious Cinderella story! I was exhibiting in Tucson for the famous gem and mineral show that almost didn't happen. My father died 6 weeks before the show and I was emotionally drained and devastated. I loved him soooo much, it was a big loss in my life. I was so close to cancelling the trip, my husband at the time, told me there was no way, I had worked too hard to cancel this show. We were going if he had to wheel me in and prop me up against the back wall of my booth!  So I plowed through and got to the show (physically that is). A couple of people kept coming to my booth and just stood there watching me. They didn't ask any questions or say a thing, just smiled and nodded. Unfortunately, the Tucson shows are notorious for being knock-off central. Lower integrity companies will go to Tucson, buy samples of an artisan's product and have it knocked off overseas.
By the third day of visits from this couple, I thought, gosh they acted too nice to be spies! But I was getting quite suspicious! Finally, the woman handed me her card and introduced herself inviting me to be a designer for Swarovski. I quickly came out from behind the booth and made her repeat it three times as I was sure I hadn't heard her correctly with that accent! Turns out she was the Trendsetting Director for Swarovski in Austria and they had been scouting the Tucson scene looking for artisans. They invited 2 of us that year to design for them and the rest is history! I now not only design but also teach for Swarovski and am pleased to be one of 30 worldwide Ambassadors (big invite and party in Tucson this past Feb.). I was also invited to participate in their "Inspiration Book" for 2009 which was just released. The piece I designed is a silk tabletop lamp with a necklace trim. The piece has over 4000 crystals! The entire collection goes on tour for the next 2 years around the world and I am honoured to be a part of such a prestigious event!  Little did I know how that Trendsetting Director and Swarovski would change my life. Our relationship and their opportunities has shaped me as a designer in ways I'd never explored if on my own. To have Swarovski constantly pushing me out of my box artistically and become "bigger" as a designer, realizing my own inner greatness if you will, has been one of the biggest miracles in my life. That is what I try to do for my students in my classes and readers of my book. Inspiration is a great gift.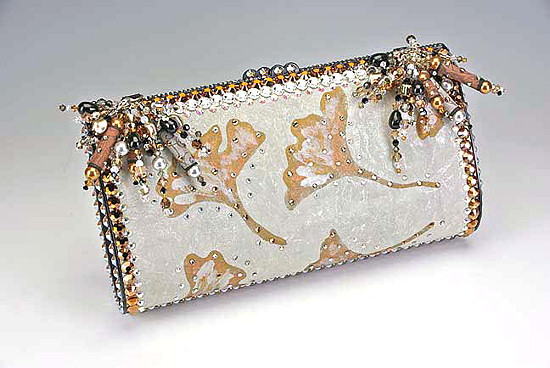 Q. For our readers who are not familiar with it, tell us a little about the Tucson Bead show and your involvement there.
A. As I mentioned before, Tucson is the big daddy of gem shows. Folks come from all over the world to shop and exhibit there. There are over 65 shows (if there's room for a tent in a parking lot, someone will make that a "show"). There are 5 dedicated bead shows alone! Great place to see and shop for the unusual as well as the best prices on more commonly used beads and findings. I had exhibited there 3 years then just went to teach for Swarovski. They have their own show (it's worth the trip just to see their showroom!) and I now teach there every year. 2010 will be the first year back with a booth! Of course I'll be teaching for Swarovski as well. Be sure to check out my website for projects and dates if interested www.KristalWick.com
Q. Do you ever get tired of demonstrating and answering questions from the public?
A. Nope.
Early on when educating the masses about silk beads there were moments…I would explain these are my silk beads, Sassy Silkies. They would say, Oh, but what are they made out of? I would say, silk. They would give me a blank look and say, OK, but what are they made out of?!!! This went on all day, every day, every show! Now, Sassy Silkies have been out and given a lot of press, so many folks are more familiar with them.
Q. Recently you launched a line of beads, Sassy Silkies and Batik Beauties, can you tell how that is working out for you?
A. Basically after 4 years of making Sassy Silkies, I ran out of Ooompaloompas! I had folks making them at home for me but my business grew so quickly I could not keep up with orders and needed to bring my vision to the next level. It was clear I needed to stay focused on design instead of production so JHB Buttons and I created a partnership.
JHB now handles all production and distribution of my original Sassy Silkies and new Batik Beauties. Each bead is still handcrafted by a human, just not me! All retail orders come through my website, www.kristalwick.com and all wholesale orders ($100 minimum order) are handled through JHB, www.buttons.com. I couldn't be happier with JHB and we have many new and innovative ideas and products coming soon.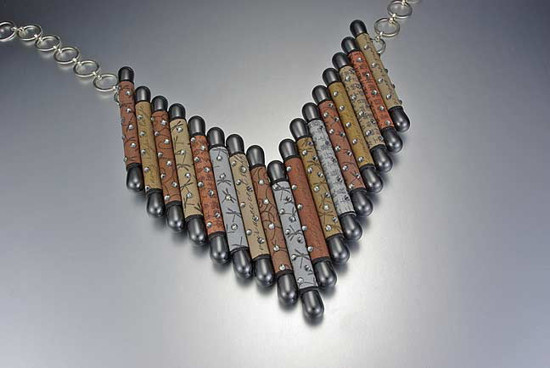 Q. Your book "fabulous fabric beads," is a wealth of inspiration to beaders and jewellery makers, and  i highly recommend it to anyone interested in making their own unique fabric beads.  Can you tell us how this book came about?
A. Thanks! I was trained in the corporate world so I came up with my 5 year and 10 year plan I my bead world! I figured I would have 5 good years selling my Sassy Silkies then they would be knocked off so I would write the book with all my secrets including 29 other fabric beads and spend the next 5 years teaching my techniques! So I wrote the book as scheduled! My beads still haven't been knocked off and now with a great company like JHB handling them, no one can touch us in the marketplace.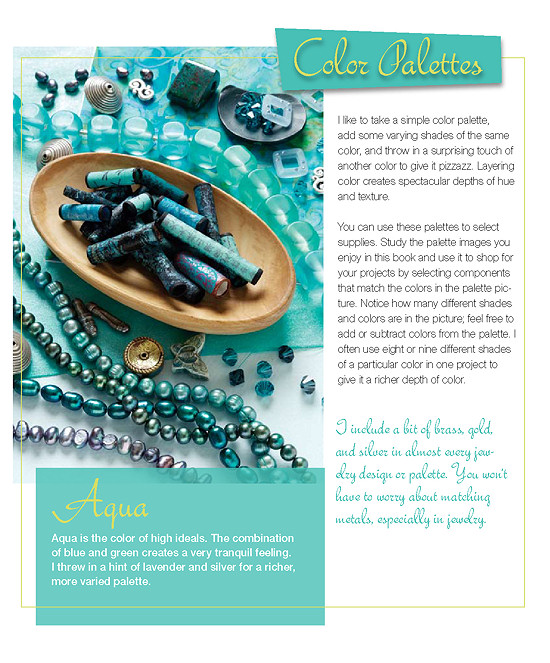 I feel it's important as creative types to keep reinventing ourselves, keep things fresh and growing; to not get too comfortable with our art and miss the miracles!
I am so pleased with the book and sales. It was risky as there isn't anything published on the market like it. It's been doing great and folks "get it". I also had specific things I wanted covered in the book based on my student's feedback and comments over the years such as color pallets. I created a variety of collections with beads/findings and describe them in the book so the reader can actually walk into a shop and purchase components for projects based on the color pallet they choose in my book.
Q. What do you enjoy most about your career, and what are your plans for the future?
A. Teaching and writing, oh, and designing and travelling, and creatively growing, pushing the envelope, and …..All of it!!!! Mainly inspiring others through creativity is what I enjoy most.
Future plans include a few more books, more classes a new kit line and pet adornments, so stay tuned! You can sign up to receive my email newsletter at www.KristalWick.com
Images reproduced by kind permission of Kristal Wick
Book Review by Allison Galpin
Kristal's book is a visual feast and certainly exceeds expectations. It's one of the best books on jewellery making I've come across (and I have read many!!). If you love colour and style and would like to create your own beads without breaking the bank, then "Fabulous Fabric Beads" would be a welcome addition to your book collection.
You can purchase Kristal's book from Amazon: