Craft products to dye for
Dylon haves some great easy to use fabric pens which make crafting a "doodle."  Create your own designer t shirts or decorate those boring shopping bags with your handy artwork. And whilst you are at it, if you have your own website, don't forget to personalise accessories with your web address. It's great free advertising.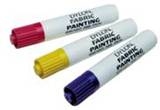 You can get some plain t shirts and shopping bags from.
http://shop.thecleverbaggers.co.uk/store/pc/viewCategories.asp?idCategory=3
You can find Dylon fabric pens at Hobbycraft, John Lewis and Dunelm Mill Shops