Focal Pendant Drop
A great way to showcase your favourite beads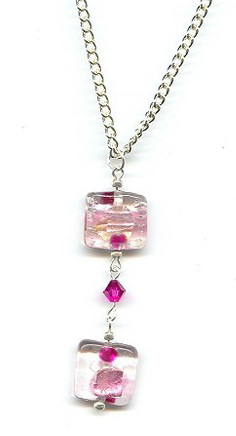 Materials Needed
Square Focal Beads
Seed beads
Headpins
Jump Rings
Clasp
6mm Crystal Bicone
Chain
Tip
Change your pendant with your
mood. Make several pendants in
different colors and accessories your
favorite outfits.
Use crystals to accent the color in
your focal beads
Step One
Take a chain the length of your choice or a ready made necklace.
Step Two
Take a headpin and thread on a seed bead, a focal square bead, and another seed bead. Trim the head pin to leave ¼ inch or 1 cm of wire and made a loop with round nose pliers. This drops forms the base of your pendant.
Step Three
Repeat previous step but this time make a loop both ends of headpin.
Step Four
Using the same technique as before, thread a 6mm crystal bicone onto a headpin and make a loop both ends.
Step Five
Now interlink the drops as shown in the picture, using the crystal as the centre piece.
Step Six
Attach a jump ring and join to the centre of a chain or ready made necklace of your choice.