Insights from jewelry designer and author Dorothy wood
Allison talks to the author of the new jewellery making book "Ultimate Necklace Maker", Dorothy Wood.
Dorothy has been making jewellery since 2004 and is the author of many books and articles and is a keen crafter.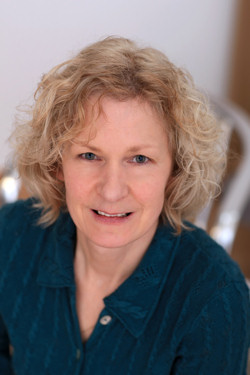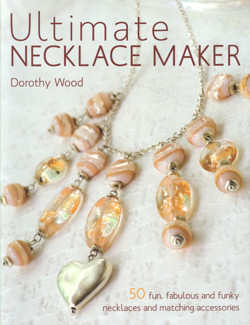 1) What do you think has contributed to the recent increase in jewellery making as a hobby in the UK?
Fashion always plays a major part in any trend and as companies like Monsoon, Accessorize, Fat Face and White Stuff began to sell simple every day jewellery people realised they could make jewellery themselves. I think jewellery making has grown rapidly because the choice of beads and the jewellery components is quite phenomenal now compared to what was available even a couple of years ago For example when chain first came through as a trend it was so difficult to buy even a basic chain to make a necklace for one of my books. But essentially with minimum initial outlay and a few basic skills it is fairly easy to make jewellery that looks professional. It's an ideal hobby and one where you can progress and develop skills to suit your abilities and pocket.
2) What made you write the Beader's Bible
I work closely with my commissioning editor and the publishing house after each book trying to choose the best beading book to follow on from the success of the last one.  As I had built up a wide knowledge of skills in particular bead stitching I was asked to write the Beader's Bible which is part of a series of bibles by David and Charles.
 
3) Making jewellery and beading are not your only passions, you also write about other crafts, in particular those associated with textiles and embroidery. So how did you get involved in making jewellery and how long have you been doing it?
I studied Dress and Design and then Embroidery and Textiles at college and so my training has been textile based. Initially my beading books were mainly home-style projects usually embellishing cushions, boxes and frames or making tassels and decorations with a token jewellery project here and there. Over the last few years fashions changed and beading moved onto bags and then into jewellery and so the beading books need to reflect that change. So it's been a process of osmosis really but I've been designing and making jewellery since 2004 and now it takes up nearly all my time!
 
4) What type of jewellery do like making most?
I love making necklaces. They accentuate such a pretty bit of the body and sit at eye level so attract more comments than any other type of jewellery. In fact we were considering  subtitling my new book 'I love your necklace" because that's how people react.
5) Have you sold your jewellery commercially or do you consider yourself more as a tutor and author.
Every time I show a piece of craft work or jewellery to my mother she always says, "you could make these and sell them". At the moment I am so busy contributing to magazines and writing my books that I don't have much spare time to develop a range of jewellery. Having moved back to Scotland a couple of years ago I'm just beginning to run workshops here and would like to develop that side rather than sell my jewellery.
 
6) How did you get involved in writing books and having them published?
A little bit of luck really. I was contacted to make a Christening robe for a Baby book – my sister worked for the publisher and they were asking around to see if anyone knew of someone who made Christening robes. So I made 10 projects for that Baby book and then continued contributing to other books for about a year as well as beginning to contribute to magazines, in particular Crafts Beautiful. Then the opportunity came when I had the majority of the projects to do and was asked to write the book.  There have been dips in the market where publishers have pulled their craft books but each time I put together a portfolio and took it round other publishers which is how I'm now working with David and Charles. Book writing is a great job because there are so many aspects to the job – designing, making, writing and then doing the step-by-step photography. I'm not good at doing the same thing over and over again so this suits down to the ground.
7) You have a new book out "Ultimate Necklace Maker", which projects in there are your favourites and why?
Well there are certainly a lot to choose from as there are nearly 50 necklaces in the book. I think the format we came up with showing the different styles of necklaces so that people can either make the necklaces as shown or be inspired to choose beads of their own makes it such a useful book to own. Personally I like necklaces that sit fairlly high so I love 'fruity fun', a pretty design with knotted wax cord and fun spotty beads which is great for summer, 'miracle bars' which is a collar style that is just sits fabulously around your neck – so flattering and would look stunning with a little evening dress. But my absolute favourite  is the macramé necklace, 'macramé magic'. It is quite different, using a sparkly yarn rather than cord for the knots and just looks fabulous on and I love wearing it.
 
8 ) Are there any new projects that you are working on that you can share with us?
My next book is collaboration with Swarovski. It's a fabulous opportunity to create exciting jewellery designs with exquisite beads – I'm in the process of producing the advances at the moment and it's looking good so far! The book is due to be published in the Autumn next year.
 
9) If you were to give one piece of advice to those new to jewellery making, what would it be?
It would be the same advice for any new hobby  – learn the basics and the rest will follow. I think it is really essential to learn how to use jewellery tools, how to open and close jump rings, use round-nose pliers to make loops and the best way to cut with wire cutters – that way the jewellery looks much neater and is less likely to fall apart!
Images reproduced by kind permission of Dorothy Wood and David & Charles Publishing
Our thanks to Dorothy for spending the time answering our questions.  You can see more information regarding the Ulitmate Necklace Maker here.