Interview with Sarah Bingham of Fairy Gems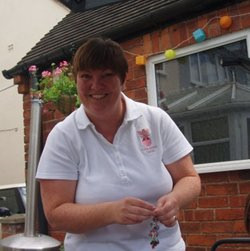 This month Sarah Bingham gives her insights into running a jewellery making business.
Sarah Bingham works part time for bead company http://www.epbeads.co.uk/, alongside this, she runs her own jewellery making parity business – Fairy Gems. She also sells pieces of jewellery online and though craft fairs and other events.
Do you think you need to very creative to run a jewellery making business?
I think you've got to have a sense of colour co-ordination; artistic ability is not absolutely necessary, but it is a good ideal to look at jewellery trends and ideas and give them your own interpretation.
Have you been on any business courses and were they of any real benefit?
I attended a Business Link course which was free of charge a while ago.  This gave the attendees the basics of running a business as well as information about writing a business plan, but I personally didn't feel the need to write one. I think business plans are a good idea if you need to raise finance and need to show someone your ideas and how you see yourself making money.
You recently attended a women's group and gave a demonstration about jewellery making. How did this work out for you?
The experience was interesting. Because I was confident about the subject matter, I didn't feel nervous about give a presentation. After the demonstration, I encouraged the women to have a go at making jewellery themselves. It turned out to be quite a useful experience because one of the women who attended got in touch with her local school. The school has asked me if I would like to come in and do taster sessions on jewellery making with the children.
In light of this experience, do you feel social networking is important?
Definitely, if I can get in front of a group of school children, then I have the potential of doing 3 or 4 jewellery parties. The more people I reach out to, the more potential customers I come into contact with. This approach has really worked for me and reduces my advertising costs.
I know that you have invested in you own branding by having t shirts branded and a fleece with an embroidered logo. How do you feel that has helped your business?
I feel the branding gives me and my business a sense of identity. If I go to the supermarket in my branded clothing, I get people coming up to me and asking what Fairy Gems is about. I also have decorated plate magnets on my car. And have often come back from my shopping to find people taking a note of my telephone number.
I know that you also do advertising in local papers and magazines. Tell us how effective that has been.
It is very difficult to predict what advertising is going to be successful. I have found that my best response comes from a local magazine that goes out to schools and libraries in my area.
Once you started advertising, did you get pestered by advertising reps trying to sell you advertising space in their magazines, and how to you managed to stay focussed on the right advertising?
Yes, I get pestered on a weekly basis. But I tend to stick with the advertising that I know works. At first it was a little difficult to turn down offers, but I have become hardened to it now.
I know that you have your own web site; tell us about how you use this?
On my web site I list the different types of parties I offer, and I also put all my customer testimonials on the web site. I get great comments from my customers, and it's great that potential customers can view other people's comments and see what a positive experience the parties have been. I have had great feed back from my customers about my website; they tell me it is very informative.
How do you promote your website?
I have a Google adwords account which I started with a free £30 voucher; this bought me just under a year's worth of online advertising.  I would say to anyone who uses Google adwords to keep a very close watch on their chosen keywords. It is very easy to run up a large advertising bill by people clicking on your ad who are not really looking for your service.
I have also been approach by a search engine optimization company who promised to get my web site on the first page of Google for my chosen keywords. However, at the time they approached me I was already listed in the organic search listing for most of my keywords, so I advise people to beware of people promising things that you can do yourself.
What are your future plans for Fairy Gems?
To continue to grow the jewellery parties and maybe look at doing more themed parties. At present my most popular parties are the charm bracelets, but I am on the look out for other jewellery making ideas.  I am currently listed as a speaker with the Women's' Institute, and I hope to widen this appeal to the adult market and do more adult parties and craft groups.
I will continue to support my chosen charity as I give 5% of my party fee to charity. Last year this was Children in Need, this year is it Friends of Chernobyl Children. This donation to charity has been commented on by my customers and they seem to like it.
I have been running Fairy Gems for year and it's been a great success so far and I am really proud of my achievements.
You can visit Sarah's website Fairy Gems by clicking here.