Louise Graham tells ibeadmag why she started Charming Angels
Starting a jewellery making business was the last thing on my mind, but a family holiday to Spain proved to be the turning point. While lying on the sun loungers I realised that I wanted to have more control over my working life and most of all spend more time with my young son.
With a keen interest in jewellery, I set about learning the skills and experimenting with designs. Having an honours degree in Product Design along with a Post Graduate Certificate in Education, I decided to combine all my talents to set up Charming Angels.
As a Design and Technology Secondary School teacher of 8 years, I knew exactly what skills could be developed in children. In January 2009 amid the recession I launched the Jewellery and Craft making parties business.  Unsure of the financial climate I aimed to test the waters and see how thing went.
Within a couple of weeks I had my first booking for an 8 year olds party, and I have never looked back.
I often wonder how the business has been such a success, but I guess it is down to many things. The branding of the business and the service I provide.  Mums tell me often how they can't believe how quiet the children are once the party starts.
"My daughter Layla had Charming Angels to her 6th birthday, and it was great…the girls (and boys!) loved making their jewellery, or craft items, and Louise was just lovely…very attentive and warm and the kids just took to her!!"(Honour McGuigan).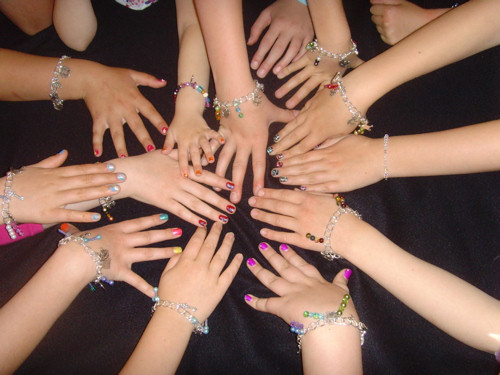 Being able to make jewellery isn't enough, as a teacher you have to problem solve, be diplomatic and most of all capture their attention.  My knowledge of working with children has also led me into writing articles on how to create a successful children's party.
I am extremely lucky in that I am able to design and create all my own stationery and manage my website. If I had to outsource this there would be more cost implications and I would feel that I had less control. I have spent many hours getting the design just right, but like all things I am always improving bits. Working with children is great fun, but behind the scenes of the business are all the legal requirements that need to be in place to ensure that everyone is protected.
Staying motivated is the hardest thing. My aim is to spend more time with my Son, yet it seems like I am working more hours than ever. To keep focused I have my vision board to remind me of the bigger picture. Still working full time as a school teacher and running the business in my spare time, while looking after my 4 year old son is definitely a challenge. I am very lucky to have a supportive husband and family who help out around the house and are there to offer encouragement.
Nearing the first year of trading already I am looking to expand the business. To offer the Charming Angels service to more children and their parents, we are looking for other creative people who would like to use their talents in this way.   For more information about joining our team please email charmingangelsparties@yahoo.co.uk
You can visit Louise' website here:  www.charmingangelsparties.co.uk
For information on how to create your own jewellery making parties business click this link and watch the video: Jewellery Making Parties