Pink Heart Bead Feature Necklace
Use a bead random pattern to showcase a heart of glass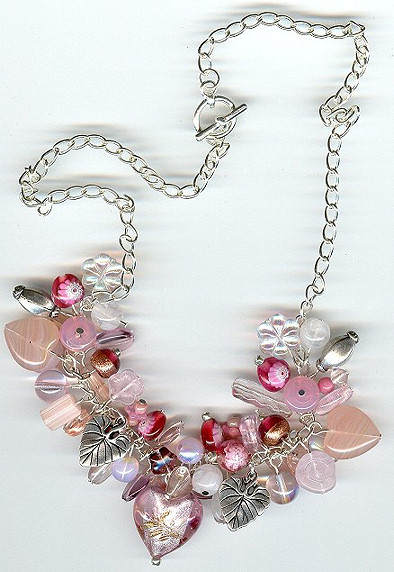 Materials Needed
Silver-plated Large Link Chain
Heart Focal beads
Selection of Silver Metal Beads
Selection of Pink Glass Beads
Toggle Clasp
Jump Rings
Headpins
Silver Seed Beads size 8
Tips
The appearance of random pattern can sometime be the hardest to create. Put together a collection of bead and if necessary move them around until you are happy with the pattern
Step One
Thread a seed bead a heart focal bead and a seed bead onto a headpin. Trim the headpin leaving 1cm or ¼inch of wire and make a loops using round nose pliers.
Step Two
Find the centre link of the chain and attach the heart bead using a jump ring.
Step Three
Follow Step 1 with all the glass and metal beads and then attach them to the chain using jump rings in a random pattern to form a cluster of beads at the front of the necklace.
Step Four
Attach a jump ring to each end of the chain and then attach the toggle clasp.