Ribbon and Ceramic Bead Necklace
This elegant necklace will give a sophisticated look worn over a simple black sweater.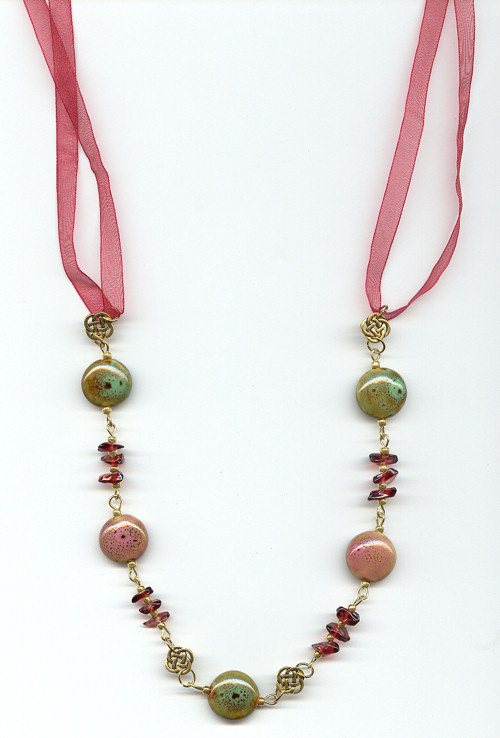 Materials Needed
Glass chip beads
Headpins or eyepins
Size 8 seed beads
10mm flat ceramic beads
Celtic knot small metal detail beads or links
Jump rings
Leather cord ends/crimps
Lobster clasp
4mm organza ribbon
Step One
Thread on a seed bead, a ceramic bead, and another seed bead onto a headpin or eye pin. Tim the pin and ensure that you have loops at each end using round nose pliers. Do this twice with pink beads and three times with blue beads.
Step Two
Using a headpin or eyepin, thread on glass chip beads and seed bead in an alternate fashion. Finish with seed beads each end and make a loop with round nose pliers at each end or one end as necessary if using eyepins.
Step Three
Starting with a blue bead as your middle point, attach jump rings each side of the headpin loops and then add a Celtic knot each side. Follow with the glass bead chips/seed beads on a headpin.
Step Four
Now add the ceramic beads and follow again with the remaining chip beads/seed beads on headpins and then follow with the ceramic blue beads. Now using jump rings, attach Celtic knots. Attach jump rings each side of the knots.
Step Five
Take a length of Ribbon and thread it through the jump ring which is attached to the Celtic knot. Trim the ribbon to the desired length and add a crimp cord end to grip the ribbon. Repeat this process for the other side. Finish off by adding a jump rings and a lobster clasp to one side.
++