Shell Twinkle Wrap Bracelet
An explosion of colour with a touch of crystal makes this bracelet stand out from the crowd.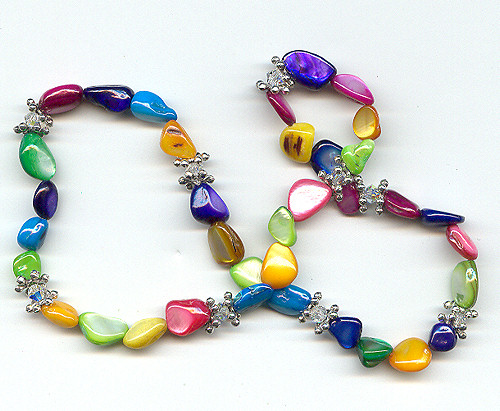 Materials Needed:
Length of Stretch Elastic
Multi Colour Shell Beads
Metal Twinkle Beads
4mm Crystal beads
Step One
Cut a length of stretch elastic, which will go round your wrist three times.
Step Two
Using adhesive tape – stick one end of the stretch elastic to your work surface.  Thread on 4 shell beads, a twinkle bead, a crystal and another twinkle bead.  Repeat this step at least 8 times.
The bracelet should be big enough to wrap round your wrist twice, so do more or less repeats as required.
Step Three
Tie off the bracelet with a knot and secure it with strong glue.