By Michael Cluley
Resin jewelry making provides you the ability to encapsulate objects and suspend them in the resin; producing jewelry items that incorporate materials that may not otherwise be used in jewelry making. Many items may be embedded within resin jewelry including insects, plants, pictures and fabric. The most important thing to consider when embedding objects into resin is that the inclusion is completely free from moisture as the moisture can interfere with the resin curing process. The following explains how inclusions should be prepared before being embedded into resin.
Comments Off on Building links to your website
Once  you have your own jewellery website you will need to develop a link building strategy. Search engines rank websites according their perceived popularity .One of the ways you can do this is write short articles on your chosen subject and submit them to article directories. Once an article has been submitted the article directory usually allows for a biography section or a resource box about the author and this is where you can get an "on topic" link back to your website as this allow for you to include your own personal website link.
Comments Off on Purple Czech Earrings
Quality Czech beads are used in lovely lavender/purple tones to create simple yet elegant art deco style earrings
Comments Off on Large Hoop Earrings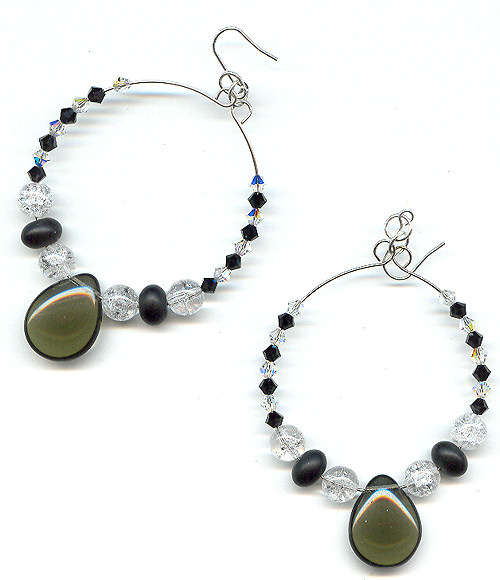 Materials Needed
2 x Bracelet Memory Wire Turns
Selection of 4mm Crystals
Selection of small Czech Beads
2 x Focal Beads
Jump Rings
Earwires
Step 1
Use round nose pliers to form a loop at one end of the turn of memory wire.
Step 2
Thread on the beads in the following pattern. Thread eight 4mm crystals, then 3 small Czech beads, then the focal bead, then 3 small Czech beads and eight 4mm crystals.
Step 3
Use round nose pliers to form a loop the other end of the turn of memory wire.
Step 4
Use a jump ring to attach the 2 memory wire loops together. Attach another jump ring and then an earwire.
Step 5
Follow the instructions above to form the other earring.
November 1, 2009 by
Filed under Articles
Comments Off on Elements of Design – Which pattern formation should you choose?
Jewellery design work is very subjective, tastes vary considerably. And as the decades pass fashion plays and increasing roll in jewellery design. But whether classic or contemporary, 80's big and bold or 30's angular dimension, one thing you will have to decide upon in some kind of pattern formation.
A classic jewellery style will favour a symmetrical pattern. Symmetry is symbolic of a balanced life and many people will still gravitate towards a classic symmetrical style when selecting jewellery. A symmetrical pattern is considered safe. And will be favoured by a more conservative target audience.
Comments Off on Aztec Earrings
Earrings don't have to be made of expensive materials to make a statement