Comments Off on Large Bali and Shell Bracelet
A splash of colour livens up these classic Bali style beads
Comments Off on Bali Silver, Thai Silver, Tibetan Silver – Do you know the difference?

A lot of jewellery designs from the past and present use ornate Silver beads.  Do you know the difference between the types of silver beads on offer, and could you be buying a cheap alloy instead of real silver? To find what to look out for read on.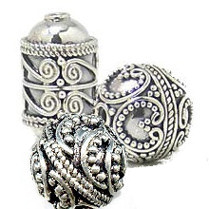 Sterling Silver beads of Bali origin are quite ornate and made by hand. They are very distinctive and add a nice touch to many jewellery designs. Bali beads usually have an intricate raised design with scrolls, dots and filigree work. The finished bead is usually oxidized to produce an antique style effect, and then polished.
Real Silver, when bought from the original producer or a bulk importer, is sold by weight; and the price can fluctuate daily according to the trade value of silver on any given day. When buying from a European or American re-seller supplier, Silver beads can be either purchased by weight on by the piece. The price you pay will depend upon the price your supplier obtained their supplies at. Depending on the market fluctuations, and the amount of Silver beads you use, you may wish to consider buying in Silver beads in bulk if you find a good price and a design you are likely to use again and again.
Comments Off on Black Nugget and Bali Bead Bracelet
Jewelry Project
A simple design which exudes classic elegance associated with the 1920's