The bracelet is constructed on stretch elastic makes the most of the vibrant colours of the millefiori beads.
The bracelet is constructed on stretch elastic and makes the most of warms tones against the skin.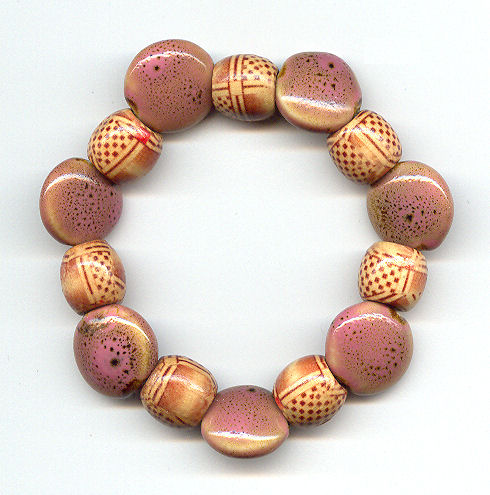 Materials Needed
Stretch Elastic
10mm Ceramic Beads
8mm Wooden Beads
Step one
Thread your beads alternately onto stretch elastic slightly at least one and half times the  diameter of your wrist.
Step Two
Make a surgeons knot to secure and dab on a little super glue or epoxy resin for extra security.
++
A charming design using Venetian style beads that is easy to make.
A simple but stunning design to show off in the summer months.
An explosion of colour with a touch of crystal makes this bracelet stand out from the crowd.
A modern art bracelet with a traditional twist
An explosion of colour makes this bracelet perfect for spring time, and in the winter it's great for livening up dull colours.
Coordinating cat's eye chips are strung together with interesting silver foil beads to create this feminine delicate bracelet.
Make something different with this nugget and seed bead bracelet combo!
Czech glass pillow beads are used with 4mm bicone crystal to create glamour and shimmer.