Delightfully different earrings with a modern look.
Sparkling Fire Opal Crystal Earrings glisten with silver findings.
Delicate Celtic knots combined with fine chain create a delicate drape to these drop earrings.
Read more
Inexpensive seed beads are used together with fine crystal to create a glamorous, yet economical look.
Two-tone crackle beads are used with pebble drops to create these unusual drop earrings.
Bali style tube beads are used to great effect with crystal bicones and Czech glass to create a long elegant line.
Beautiful fire opal crystals are paired with metal snowflake twinkles to give these drop earrings extra sparkle.
Elegant drop earrings with just a small crystal accent, adds a touch of glamour.
Debra Williams started making jewellery last year with some old beads that she had lying around. She made twenty pairs of earrings and gave them to a friend who went to a swap meet. They all sold for between $1 and $2 dollars a pair. The was no special display, yet Debra's simple beaded earrings sold like hot cakes and led her to make more.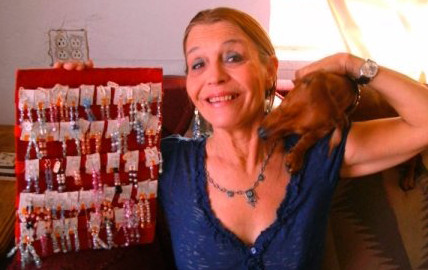 Czech glass pillow beads are used with 4mm bicone crystal to create glamour and shimmer.