Comments Off on Interview with Sarah Bingham of Fairy Gems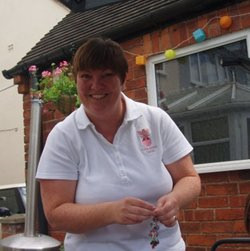 This month Sarah Bingham gives her insights into running a jewellery making business.
Sarah Bingham works part time for bead company http://www.epbeads.co.uk/, alongside this, she runs her own jewellery making parity business – Fairy Gems. She also sells pieces of jewellery online and though craft fairs and other events.
Do you think you need to very creative to run a jewellery making business?
I think you've got to have a sense of colour co-ordination; artistic ability is not absolutely necessary, but it is a good ideal to look at jewellery trends and ideas and give them your own interpretation.
Comments Off on Louise Graham tells ibeadmag why she started Charming Angels
Starting a jewellery making business was the last thing on my mind, but a family holiday to Spain proved to be the turning point. While lying on the sun loungers I realised that I wanted to have more control over my working life and most of all spend more time with my young son.
With a keen interest in jewellery, I set about learning the skills and experimenting with designs. Having an honours degree in Product Design along with a Post Graduate Certificate in Education, I decided to combine all my talents to set up Charming Angels.