Life was less complicated in years gone by. Once of the reasons for this was simplicity: and in particular the simplicity of choice. If you wanted washing powder, you went to your local corner shop and bought washing powder. You may have had one or two brands to choose from. Now if you want washing powder you have the choice of many brands, biological and non biological, liquid, powder, tablets, dissolvable sachets; the list goes on.
One of the best and cheapest ways to get new customers is to get your exiting customers to promote you. In many industries it's what they call referrals. Customer referrals will happen naturally if you provide a good service that people are happy with, but often this process can be helped.
The following are useful resources that may help you effectively clean your jewellery.
Have you ever wondered how to get great pictures of your jewellery or beadwork, without having to resort to a professional photographer – well read on and we'll tell you how.
At some point your are likely to want to take pictures of your jewellery especially if you want to sell your jewellery online or through some type of marketing promotion. It is vital that you get good photographs or pictures of your jewellery. When people are buying from your from a distance, like online auctions sites or other websites, photographs of your jewellery are the only visual representation that people have to judge your work. If your picture is bad , fuzzy or badly lit, your jewellery won't sell and people will judge your work as being amateurish. Even if you do manage to sell your work, it won't  be at the premium price it could have sold for if you had got a decent picture.
Jewelry Photography with Photo Studio Box
By Dan Ennis
For those who are selling on ebay or online, or any jewelry store owners, taking quality jewelry photos is a daunting task.
You are selling a product that is relatively expensive, and requires a high quality photograph to showcase your jewelry product. As the saying goes, a picture is worth a thousand words. In your case, a picture might worth a thousand dollars! A good piece of jewelry could retail for $1,000's or more.
As such, there should be no compromise on taking jewelry photography. The jewelry photo you take should be sharp, high detail and depicting the real color. In particular if you are selling diamond, gem stones, and other precious metals of which the color could easily distorted by light that is not suitable for jewelry photography.
Digital Photography – 11 Tips For Taking Better Digital Photographs Of Jewelry And Craft Items
By Jim Juris
I am often asked by jewelry and craft artists what they can do to improve their photography. Here are my top 11 tips for anyone that has problems taking great digital photographs.

A lot of jewellery designs from the past and present use ornate Silver beads.  Do you know the difference between the types of silver beads on offer, and could you be buying a cheap alloy instead of real silver? To find what to look out for read on.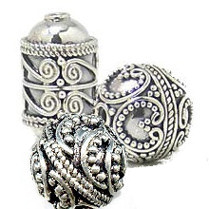 Sterling Silver beads of Bali origin are quite ornate and made by hand. They are very distinctive and add a nice touch to many jewellery designs. Bali beads usually have an intricate raised design with scrolls, dots and filigree work. The finished bead is usually oxidized to produce an antique style effect, and then polished.
Real Silver, when bought from the original producer or a bulk importer, is sold by weight; and the price can fluctuate daily according to the trade value of silver on any given day. When buying from a European or American re-seller supplier, Silver beads can be either purchased by weight on by the piece. The price you pay will depend upon the price your supplier obtained their supplies at. Depending on the market fluctuations, and the amount of Silver beads you use, you may wish to consider buying in Silver beads in bulk if you find a good price and a design you are likely to use again and again.