Inexpensive seed beads are used together with fine crystal to create a glamorous, yet economical look.
An explosion of colour makes this bracelet perfect for spring time, and in the winter it's great for livening up dull colours.
A cascade of hoop findings create an interesting focal point to this necklace.  Add fine crystal for extra detail.
Beautiful fire opal crystals are paired with metal snowflake twinkles to give these drop earrings extra sparkle.
Make something different with this nugget and seed bead bracelet combo!
Simplicity can sometimes produce the best jewellery results. This necklace looks equally good over a plain white tee shirt or over a chenille black sweater.
Stunning red silver foil hearts are teamed together with classic translucent bicone beads to make this statement necklace.
Quality Czech beads are used in lovely lavender/purple tones to create simple yet elegant art deco style earrings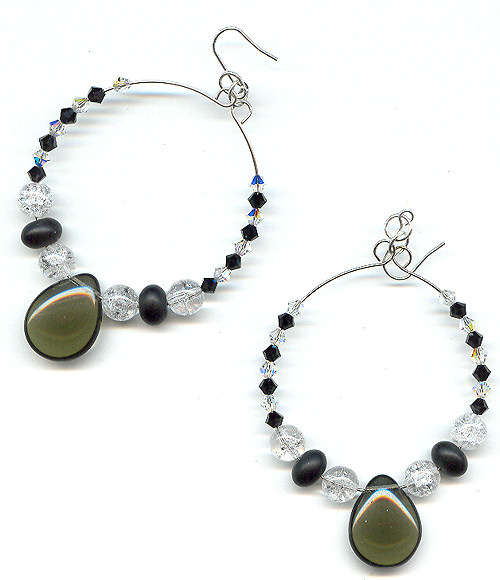 Materials Needed
2 x Bracelet Memory Wire Turns
Selection of 4mm Crystals
Selection of small Czech Beads
2 x Focal Beads
Jump Rings
Earwires
Step 1
Use round nose pliers to form a loop at one end of the turn of memory wire.
Step 2
Thread on the beads in the following pattern. Thread eight 4mm crystals, then 3 small Czech beads, then the focal bead, then 3 small Czech beads and eight 4mm crystals.
Step 3
Use round nose pliers to form a loop the other end of the turn of memory wire.
Step 4
Use a jump ring to attach the 2 memory wire loops together. Attach another jump ring and then an earwire.
Step 5
Follow the instructions above to form the other earring.
This elegant necklace will give a sophisticated look worn over a simple black sweater.