The bracelet is constructed on stretch elastic makes the most of the vibrant colours of the millefiori beads.
The bracelet is constructed on stretch elastic and makes the most of warms tones against the skin.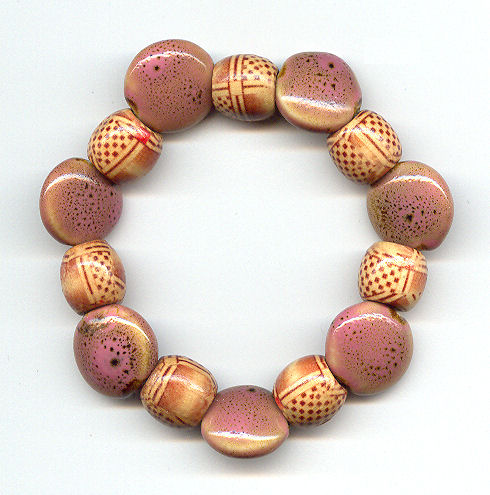 Materials Needed
Stretch Elastic
10mm Ceramic Beads
8mm Wooden Beads
Step one
Thread your beads alternately onto stretch elastic slightly at least one and half times the  diameter of your wrist.
Step Two
Make a surgeons knot to secure and dab on a little super glue or epoxy resin for extra security.
++
Make use of quality Czech glass beads and their extreme clarity to form a little warm toned sophisticated glamour.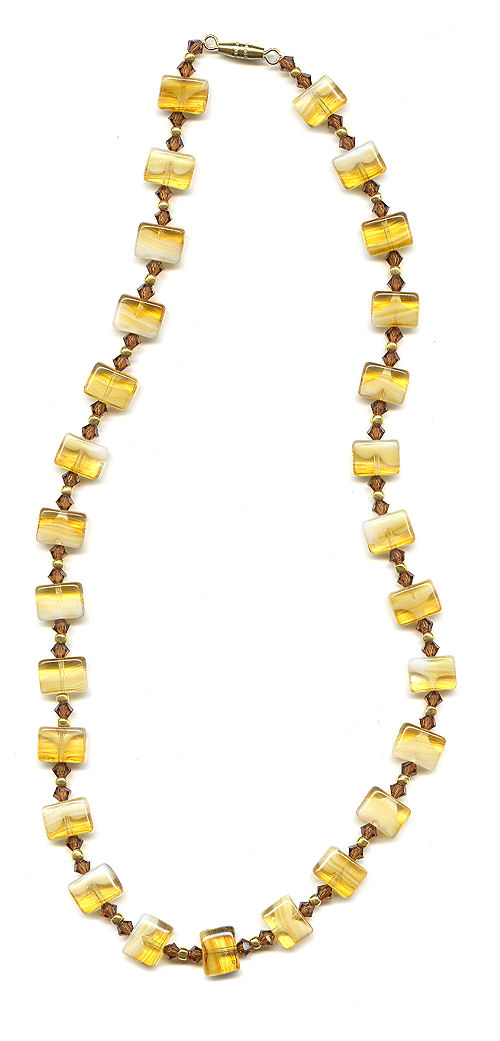 Materials needed
Nylon thread.
Square or rectangular Czech beads
Size 8 seed beads in gold or silver tone
4mm bicone crystal
Step One
Take a length of nylon thread just longer that your desired necklace length.
Step Two
Thread on a Czech glass bead, followed by a bicone, a seed bead, and another bicone.
Step Three
Repeat pattern until you reach your desired length of necklace.
Step Four
If you necklace is long enough to go over your head then knot the thread and dab  some super glue onto the knot for security. If you require a shorter length necklace, attach a torpedo clasp and knot firmly.
++
Stunning use of bright colour crystal makes this choker really stand out.
Delightfully different earrings with a modern look.
A wonderful arrangement of crystals and colour give this modern necklace a truly unique look.
Sparkling Fire Opal Crystal Earrings glisten with silver findings.
A stunning necklace design that is full of colour.
A charming design using Venetian style beads that is easy to make.
A lovely necklace that contrasts a delicate pink bead with jet crystals