Make use of quality Czech glass beads and their extreme clarity to form a little warm toned sophisticated glamour.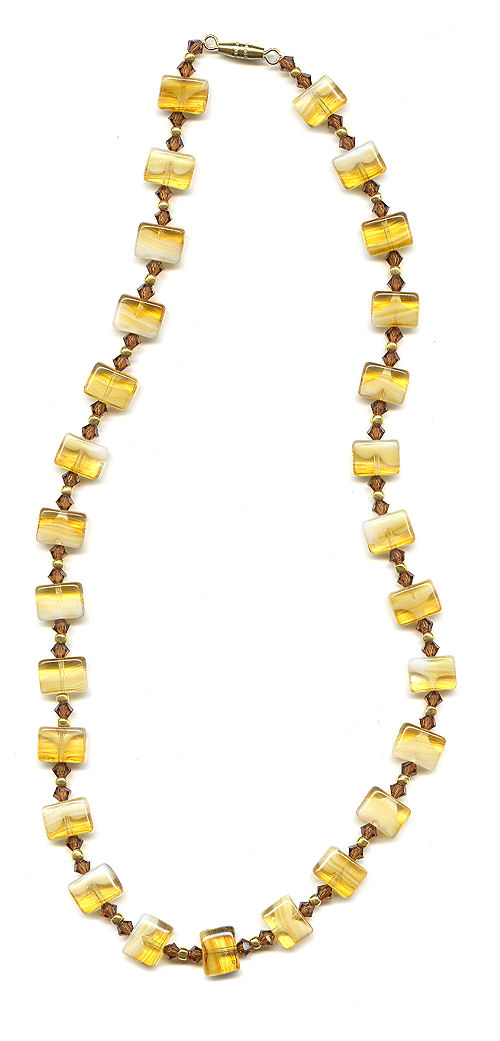 Materials needed
Nylon thread.
Square or rectangular Czech beads
Size 8 seed beads in gold or silver tone
4mm bicone crystal
Step One
Take a length of nylon thread just longer that your desired necklace length.
Step Two
Thread on a Czech glass bead, followed by a bicone, a seed bead, and another bicone.
Step Three
Repeat pattern until you reach your desired length of necklace.
Step Four
If you necklace is long enough to go over your head then knot the thread and dab  some super glue onto the knot for security. If you require a shorter length necklace, attach a torpedo clasp and knot firmly.
++
A great look for summer with this African Tribal inspired design. Knot and wear loosely over a maxi dress.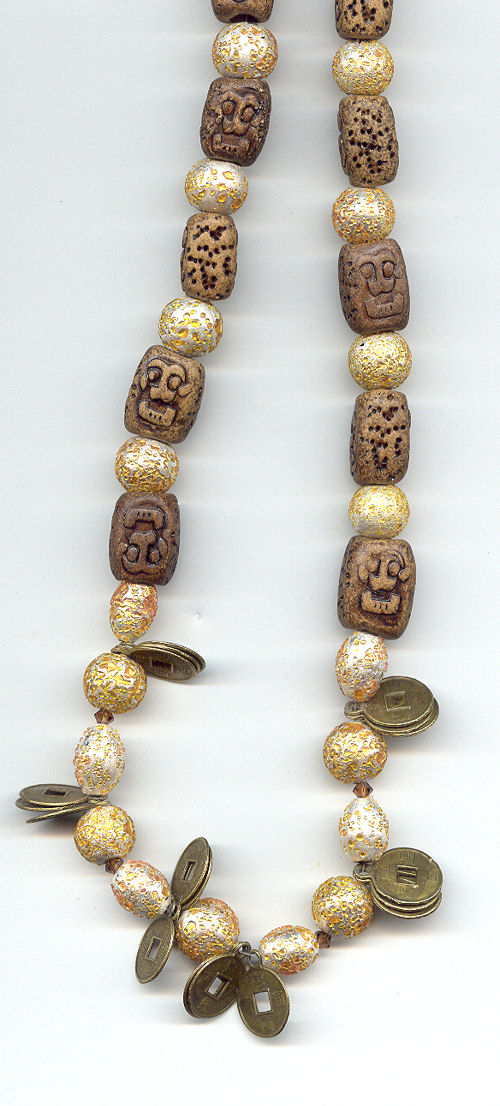 Materials needed
Nylon thread
Large Style Antique Ceramic Beads
Oval Sugar style silver foil beads
Round sugar style silver foil beads
Antique style coin pendants
4mm Crystal Bicones
Step One
Place a round silver foil bead in the centre of the necklace.
Step Two
Take 6 coin pendants and place 3 each side of the centre round bead.
Step Three
Place an oval bead each side of the collection of coin pendants.
Step Four
Now follow with a crystal each side of the necklace, followed by 3 coin pendants.
Step Five
Follow with an oval bead each side, followed by a crystal, followed by a round bead three pendants, and another oval bead.
Step Six
Thread on a large ceramic bead followed by a round bead and repeat until your desired length. Knot and add a dab of glue for security.
++
A wonderful arrangement of crystals and colour give this modern necklace a truly unique look.
A stunning necklace design that is full of colour.
A lovely necklace that contrasts a delicate pink bead with jet crystals
A striking yet simple design that is easy to wear.  Accessorize plain clothes with this long lariat.
Egyptian style bead collar makes use of cats eye beads, crystal and organza ribbon.
A cascade of hoop findings create an interesting focal point to this necklace.  Add fine crystal for extra detail.
Irregular aqua beads are teamed with a pattern made from Bali style beads
Simplicity can sometimes produce the best jewellery results. This necklace looks equally good over a plain white tee shirt or over a chenille black sweater.